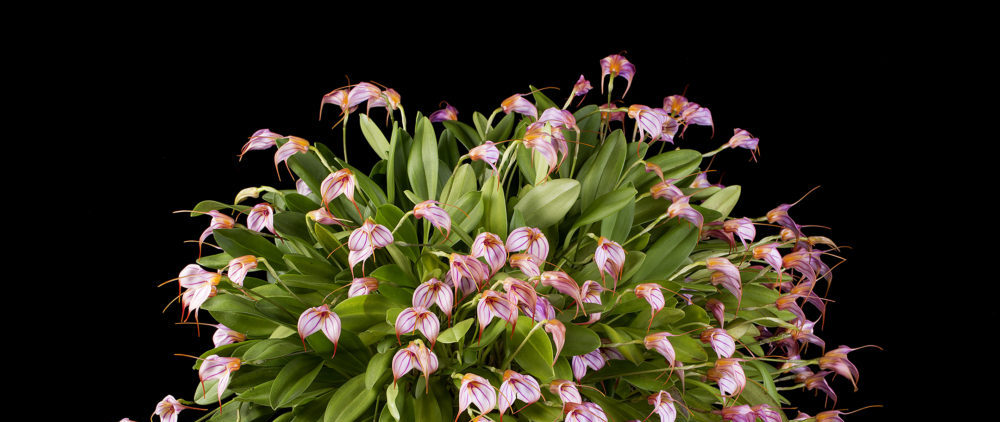 Next meeting
The next meeting is proceeded by an exciting presentation by Pat Van Adrichem. This presentation, "A Greenhouse visit to Kingfisher Orchids." will be a drone view of these beautiful flowers and grounds. A complete guide of the greenhouse will be presented with a discussion on growing methods, nutrients provided and the presentation ends with a demonstration of pollinating a flower and creating a new hybrid.
The next meeting will be held online
Monday September 27th at 6:30 pm PST
This will be a virtual meeting!  The meeting will be held immediately following the presentation.  Please watch your email for details.
Biography
Pat van Adrichem spent his childhood growing up at the world famous Butchart Gardens near Victoria, where his father was a gardener. He has lived in Deep Cove in North Saanich, BC with his wife Cathy for 35 years, and has been growing orchids for over 30 years. At Kingfisher Orchids, Pat and Cathy specialize in warm growing orchids such as Phalaenopsis and Dendrobium. Pat has been breeding and cloning his own orchids for many years, and has many crosses registered with the Royal Horticultural Society in England. Over the years Kingfisher Orchids has won over 35 American Orchid Society awards for flower quality, culture, and displays. Currently Kingfisher is breeding to create new hybrids in red, yellow, and art shades, as well as cloning selected species and virus-free hybrids. When not 'playing' with his orchids, Pat owns a local business, Service First Ltd., and can often be seen sport fishing for salmon and halibut!