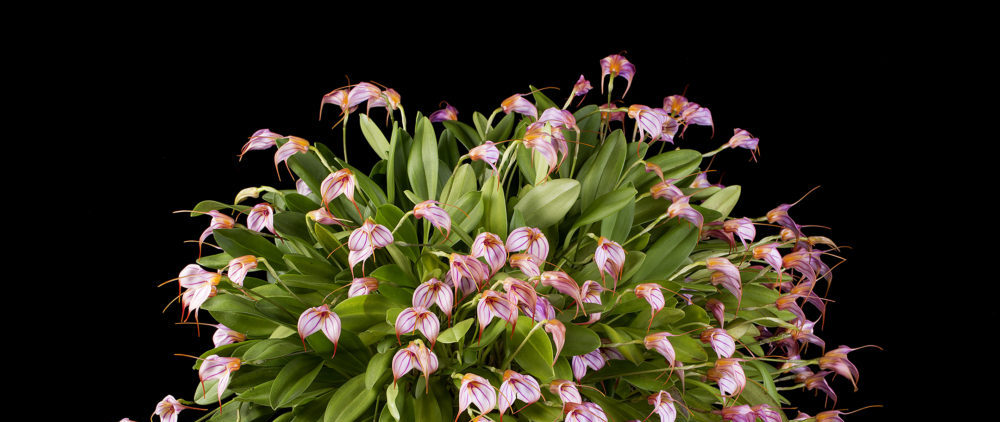 Next Meeting
Maurice Garvey from NY will be presenting about "Growing in Enclosures, Orchidariums, Globes and Cases."
This presentation will be held online
Monday January 24th at 6:30 pm PST
This will be a virtual meeting!  The meeting will be held immediately following the presentation.  Please watch your email for details.
Biography
Maurice has been growing orchids for over 42 years. He started growing on his apartment's west facing windowsill. Floral carts were another experiment that did yield much success. After the floral cart experiments Maurice built his first enclosed growing area. Clearly, this environment was successful for growing all those things that require 50% humidity all year. For the last 20 years, Maurice has been growing in commercially manufactured Orchidariums, growing many species and hybrids with tremendous success and having numerous plants in flower most days of the year.
In Maurice's presentation, he discusses many facets of growing in a contained environment, globe, tank or orchidarium. He explains why somethings must be one way and that other variables in the overall environment are not as critical as he once thought. He is currently modifying his cases for LED lighting.
Over the years, Maurice has won AOS awards, many show ribbons and did co-chair many award winning show exhibits. In addition Maurice is an award photographer for the American Orchid Society's North East Judging Center in New Jersey, he has served on several American Orchid Society committees, is a past President of the Manhattan Orchid Society and he has served in many other Board positions for the Manhattan Orchid Society and the Greater New York Orchid Society.
Maurice has always grown in an apartment and says that growing in an apartment is a challenge; however growing orchids in cases or terrariums opens the door to possibilities unavailable to the windowsill grower. He urges all orchid growers to try this method of growing.
Currently, Maurice is concentrating on Asian terrestrials, Dendrobiums, Phalaenopsis species and Bulbophyllum.