Why become a member of VicOS?
Meet other orchid lovers such as yourself. Socialize, get help from orchid experts, get advance notice of orchid events, go to monthly meetings to show some of your own orchids, a monthly newsletter, and more! Members can buy and sell orchids at our meetings, too!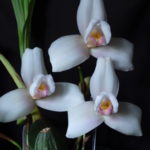 How do I sign-up?
Click here to download our Membership Form.

Print the form and fill it out.

Mail it to us at:
       195 Maddock Avenue West
       Victoria, BC
       V9A 1G5
You can also bring it to us in person at one of our monthly meetings!
Membership fees are $25.00 for individuals, $35.00 for households.
The Society membership year runs from September to September, and fees are renewable at the start of the membership year. Meetings are held from September to June, and break for the summer.
The Victoria Orchid Society Newsletter is published monthly, except in December, July and August.  Newsletters are sent by email to members subscribed to our email list, and are also available on our website.
A library of books and videos is available to our members at the monthly meeting for a one-month loan.
Do you want a customized name tag? Order one for $9.00, or get a magnetized tag for $11.00.
Learn More about us
Sign up for our newsletter and keep up with what's going on!